23-31 March 2012
A Viennese Scrapbook, accompanying
8 days and 200 hours of
Schubert's music on @bbcradio3 About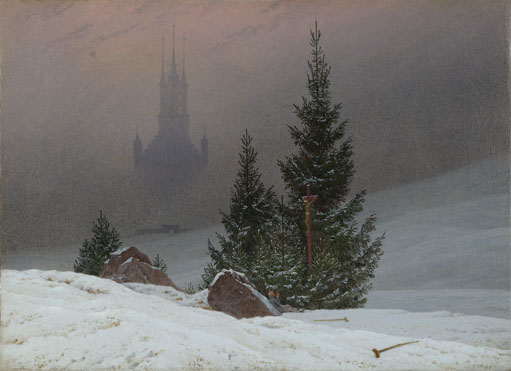 …but it's still winter at the National Gallery. This image by Schubert's contemporary Caspar David Friedrich is the perfect distillation of Winterreise. A man has collapsed in the snow and there's a strange building, a mirage perhaps, in the distance. Although rooted in reality, the painting is eerie, almost surreal. 'Winter Landscape' is on permanent display at the National Gallery. 
More
Countess Caroline Esterházy looks down on Schubert from her portrait, depicted in Moritz von Schwind's drawing of a Schubertiade. 
More
'Die Rosenzeit', Georg Ferdinand Waldmüller (c. 1864)
More
'Die Lauscherin' 1833, Peter Fendi
(Source: bonjourtableau)
More
Schubert at the Piano, from 'The Fall of Man: Schubertian Parlour Game in Atzenbrugg' by Leopold Kupelwieser
More
Click here to see more of Moritz von Schwind's artworks. 
More
'Death and Life', painted by Gustav Klimt in 1911
More
Egon Schiele's 'Death and the Maiden', painted by the Austrian artist nearly a century after Schubert's string quartet of the same name. 
More
'Frau vor dem Spiegel', by Ferdinand von Lütgendorff (1834)
(Source: steelylaceribbon)
More
'Catharina Annette Fraser', by Jan Adam Kruseman (1834)
(Source: fripperiesandfobs)
More
A depiction of 'Death and the Maiden' by Irish illustrator P.J. Lynch
More
Illustration for Goethe's Der Erlkönig by Schubert's friend Moritz von Schwind
(Source: fletchingarrows)
More
In the Forest (Boy with a Bugle), painted by Schubert's great friend Moritz von Schwind
(Source: eachdayaflower)
More